April 7, 2021
3 Easy Ikea Hacks to Help You Save Space in Your Apartment
Let's face it. Vancouver is not the most spacious of cities, especially for apartment dwellers. And chances are, if you're reading this article, you're lacking space specifically in the bedroom area.
But fear not. A small space should be no cause for alarm with a few smart storage hacks up your sleeve. And these ones use materials available to anyone with a wi-fi signal and a few moments to spare for browsing ikea.com.
Turn your bookcase into a shoe rack
If you're anything like us, you're a lover of both shoes and books. And your current storage strategy is composed of various "organized piles" of both items, which your spouse accuses you of "planting" exactly where they "planned to step" that day.
While it's cool to be accused of mind-reading (and stealth entrapment), it's also sometimes cool to have a clear path to the door in case of, you know, fire or other emergencies.
Enter the Ikea BILLY bookcase, so ubiquitous in the living spaces of millennials that you might even already own one. Full-sized ones are only $55 brand new, but they are often sold for $20 or less on Craigslist or Marketplace and come in a variety of adaptable shapes and sizes.
But while the BILLY is primarily known as a holder of books, what most people don't know is that it's also the perfect size for holding shoes. Plop it in your closet and fill it up with shoes. That's it! If you have any space left over, fill it with books.
Source: minimalistdesks.com
Don't have a closet or live in a studio apartment? Take out the backing to use your new shoe rack as a room divider, creating some privacy.
PS: This "hack" barely belongs on this list as it requires no actual "hacking," but it's such an easy way to get rid of clutter we couldn't not mention it.
Make a hybrid plant stand/end table
Plants! They add oxygen and beauty to any space—and bedrooms are no exception. But…they take up space, especially those trendy fiddle leaf fig trees.
Enter a popular Reddit hack for a side table that doubles as a plant stand. As pictured below, simply carve a keyhole shape from the center of your table towards one edge to ensure easy access.
Source: Reddit
The end table in the photos above is actually a BENJAMIN stool, which no longer appears to be in stock. But this hack would work equally as well on any simple side table, such as the LACK.
Declutter your narrow entryway
This narrow hallway hack from Redditor Riri_Maruchan involves two Hemnes shoe cabinets and has nothing to do with shoes. (Remember when we told you to create a shoe rack out of something that wasn't a shoe rack earlier? Apparently we hate using shoe racks for their natural purpose.)
For our narrow entryway, we combined two Ikea Hemnes Shoe Cabinets and replaced the original tops with a stained wood top. I am so happy with how this hack turned out! from ikeahacks
The whole process is outlined here, but essentially you're removing a leg and drilling some holes to mirror each other. All you need is an electric drill, different sized drill heads, some screws, and a ruler and pencil.
Consider painting it or using washi tape to create geometric patterns on it for an even more stylish effect.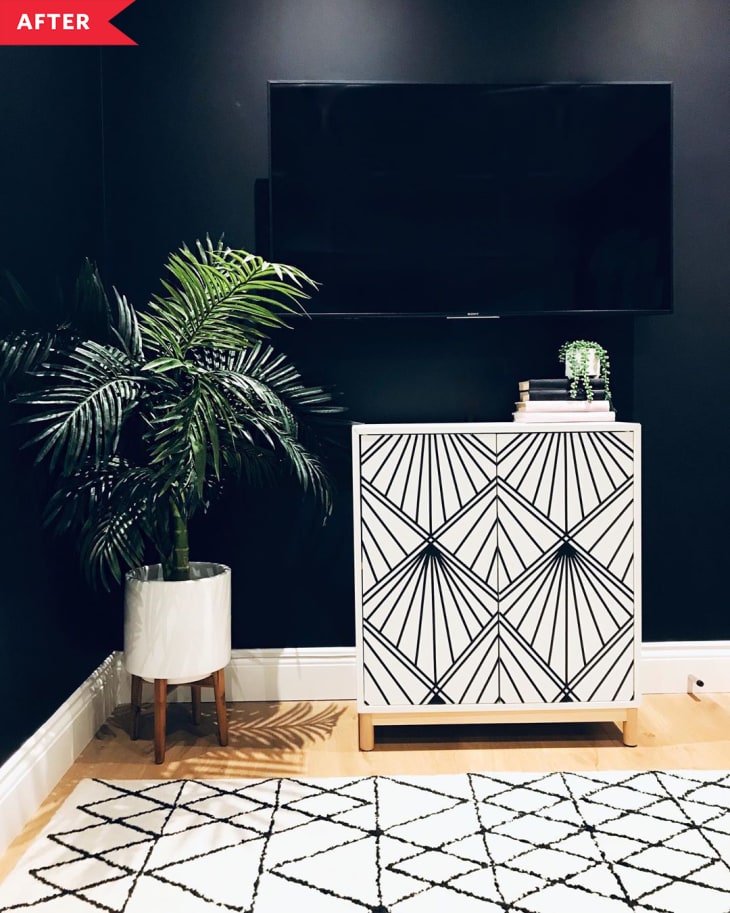 Source: Apartment Therapy
Because people with narrow entryways deserve a place to drop their keys/wallets/receipts/hand sanitizers too!